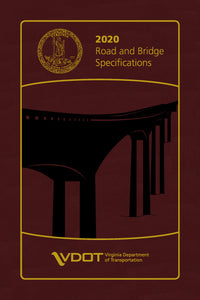 2020 VDOT Road and Bridge Specifications
The official Virginia Department of Transportation 2020 Road and Bridge Specifications
Leatherette cover with durable stitched binding to withstand use in the field.
Detailed table of contents and exhaustive index for quick reference.
Pages: 1063
Size: 6" x 9" x 2.1"
ISBN: 9781733179942
Purchasing Departments
If you are wanting to make a bulk purchase or need to pay with a method other than credit card, check or ACH please place your order through this site and then contact us when you get to the final checkout button to finalize your order.
Tax Exempt
If you have tax exempt status please click the create account link at the top of this page and create an account. Then contact us with your username.  We will set up you account to be able to make a tax exempt purchase.